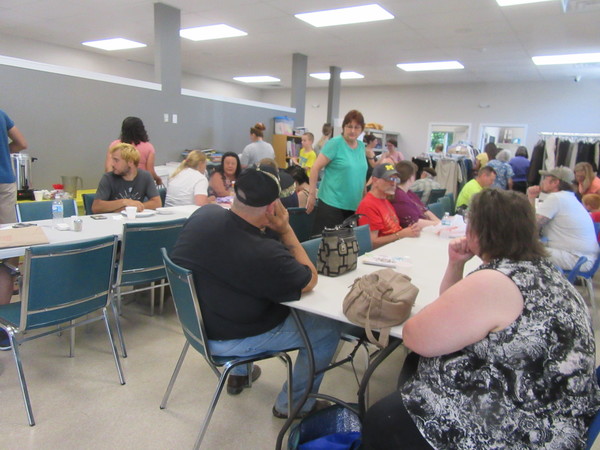 The official unveiling of the new Bountiful Harvest facility was held Friday at its location of 300 E. Grand River, behind the First Presbyterian Church. Bountiful Harvest's mission is to provide food and other items needed for sustenance, at no cost to the recipient. There are no income or other criteria needed in order to be eligible.
Yvonne Cavalli is the founder and president of Bountiful Harvest. She says the store runs strictly on donations and doesn't seek or accept any government grant money. About 30 businesses in the Brighton area community provide donations of food which allow Bountiful Harvest to operate. The agency also purchases food from Meijer, the Dollar Store and even Gleaner's, all at a greatly reduced price. She differentiates between the two by stating that Gleaner's is a food bank, whereas Bountiful Harvest is a food pantry.
The store also has clothing available for free from sizes newborn to women's 5X. The clothing items rotate weekly and don't stay on the shelf long, according to Cavalli. The store has a resource navigator on site to assist if need help getting bridge card or cell phone. The resource person can take the information and get the application filed. Although she is an ordained minister, Cavalli tells WHMI that a person's religion doesn't matter, and in fact they do not even mention anything about religion unless the patron requests spiritual help.
Originally, Bountiful Harvest operated out of the basement of St. George Lutheran Church in Brighton, a situation which lasted for 7 years, until the church needed the room for storage. At that point, the city of Brighton gave permission for the organization to use the Brighton Community Center free of charge, which lasted over a year, until the group was able to move into its new home. The First Presbyterian Church gave Bountiful Harvest a 65-year lease at no cost to use the property behind the church at the edge of downtown Brighton. The 501(c)3 non-profit held a $300,000 Capital Campaign which raised the funds with which to build the building that is now its home.
The current, temporary hours are: Friday 3-6 p.m.and Sat. from 8-noon. That will change in two weeks and the store will be open on Tuesday and Thursday as well. When that happens, the information will be recorded on the telephone message. Bountiful Harvest also has a website and Facebook page and the updated information will be posted accordingly. (TT)
Source
Source Website Article – Click Here
Attorney Howell, MI – Attorney Brighton, MI – Livingston County Attorney – Criminal Law Attorney – Bankruptcy Attorney – DUI Attorney – Divorce Attorney