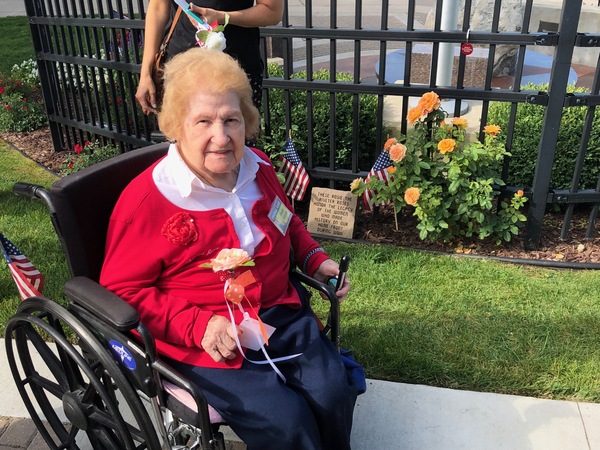 Two new rosebushes honoring the women who worked on home front during World War II were dedicated at the Brighton Veterans Memorial this morning.
The Brighton Women's Garden Club and the Brighton Veterans Memorial Committee paid tribute to Rosie the Riveters during the special ceremony held at Mill Pond Park. Two Rosie the Riveter Floribunda Rose bushes have been planted there, each honoring an individual Rosie, as well as the millions of women who stepped up to fill critical manufacturing jobs that were left vacated when men were called to fight in World War II.
One honoree, "Original Rosie" Wanda Rudzki, was present for the event. Rudzki is a Rosie who worked in Detroit and simply said that she was happy to do what she could. The other rose bush was dedicated to Mary Anna Gawal, a Rosie who worked at Briggs Manufacturing Plant. Her daughter, Antoinette Kotchounian, was there on behalf of Gawal who passed away in 2011, and said that growing up her mother spoke often and fondly of her time as a Rosie, teaching her by example that she could do anything she wanted if she put her mind and hands to it.
Nancy Zajac, President of the Willow Run Chapter of the American Rosie the Riveter Association (ARRA), spoke to the gathering, and said it was difficult to properly sum up the bravery of the women who stepped into largely uncharted territory to help their country and the ones they love. She said these women promised the country they'd do it, and they did, coming forward for a variety of reasons. Talking with many of them through ARRA, Zajac said one big reason was to get their boys home, be they brothers, boyfriends, or husbands. She said she's heard from several Rosies that they wanted them home because they were excited to start families. And when times got tough following the war, many Rosies were able to buy houses for their growing families with the money they had made and saved. Zajac said she knows one Rosie who still lives in such a house.
The rosebushes, with their orange-red bloom, can be seen on the West St. Paul Street side of the memorial, and when fully mature, will grow to be 3-to-4 feet wide by 3-to-4 feet high, serving as an reminder to the wartime contributions made by the many Rosies. (MK)
Source
Source Website Article – Click Here
Attorney Howell, MI – Attorney Brighton, MI – Livingston County Attorney – Criminal Law Attorney – Bankruptcy Attorney – DUI Attorney – Divorce Attorney