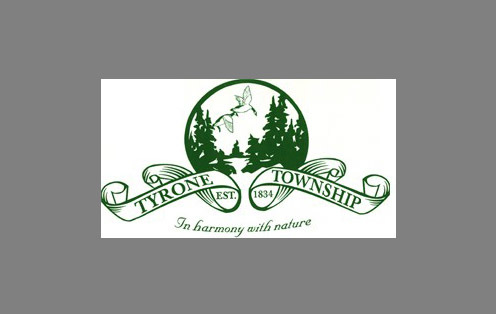 Tyrone Township officials have questions for an applicant hoping to gain conditional rezoning for a new condominium development.
The Sanctuary at Tyrone would be located on 72-acres off of Runyon Lake Road, adjacent to what will soon be the new location for the township offices. Representatives from Boss Engineering were on hand before the Planning Commission, Tuesday, to answer questions and request that the site, currently zoned farming residential (FR), be conditionally rezoned rural estate (RE), allowing for more dense development. They would then use a cluster development option (CDO) to allow for a tighter grouping of houses to preserve more open space. Boss wants to develop 36 single family residences, that under RE zoning, would account for 50% of the site. Tyrone Township statute requires a 50-50 split between development and open space when a CDO is used. This percentage doesn't account for the road, though, which will eat into and leave them short of that required amount of open space.
Planning Commissioners were also skeptical of concept designs where the back yards of properties would be declared open space, with owners unable to touch the back of their property. There is also the question of a wetland area encompassing large parts of two lots. The applicant claims it is unregulated wetland, but Planning Commission Chair Mark Meisel said they've run into this issue in the past and would like to see proof. Boss said the wetland is unregulated and not an issue, but the Planning Commission wants verification. Meisel said they had an instance where they took another developer's word on a wetland being unregulated, only for the state to come in say that was not the case at a later date. Commissioner Dave Wardin said he'd like to see the 2 lots the wetland covers remain undeveloped, but the representatives from Boss said that was essentially a deal breaker.
Conditional rezoning usually comes with concessions to residents and the township, something else that Meisel was skeptical of them offering. Their consultant said that Boss's willingness to only build that one use out of RE zoning could be seen as an acceptable offer. Meisel said the Planning Commission will soon have a conversation with the Board of Trustees to see if this offer is acceptable. (MK)
Source
Source Website Article – Click Here
Attorney Howell, MI – Attorney Brighton, MI – Livingston County Attorney – Criminal Law Attorney – Bankruptcy Attorney – DUI Attorney – Divorce Attorney