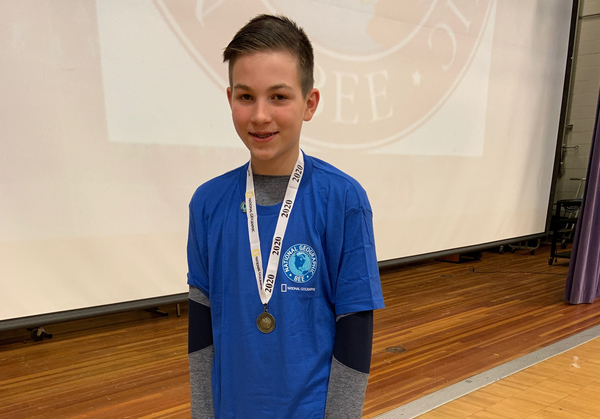 A student who won a geography contest at Hartland Middle School now has a chance to compete at the national level.
James Clark, a 7th grader at Ore Creek Middle School, recently won the school's National Geographic Geography School Bee. The contest motivates students to learn about the world and how it works by testing students' knowledge of world geography and its changes throughout history. Clark now has a chance to win cash prizes, scholarships, and an all-expenses-paid trip to participate in the GeoBee national championship in the Spring of 2020.
The school-level Bee, at which students answered oral questions on geography, was the first round in the 32nd annual National Geographic Bee. Clark will take the State write-in test in hopes of advancing as one of the top 100 school winners in the State of Michigan.
Ore Creek Middle School has been participating for 17 years now. Social Studies Teacher Gerald Bliznik says the competition wants to help influence kids to not only like geography, but to fall in love with it. Students from all 50 states, the District of Columbia, U.S. territories, and the Department of Defense Dependents Schools are participating in the 2019-2020 National Geographic GeoBee. (DK/JM)
Source
Source Website Article – Click Here
Attorney Howell, MI – Attorney Brighton, MI – Livingston County Attorney – Criminal Law Attorney – Bankruptcy Attorney – DUI Attorney – Divorce Attorney